IRRILAND IS A COMPANY THAT FINDS ITS MAIN CORE BUSINESS IN EXPORT. FOR THIS AT THE BEGINNING OF DECEMBER IT HAS ADAPTED TO THE PRESENCE IN ITALY AT THE END OF OCTOBER, THE PARTICIPATION AT THE "IRRIGATION SHOW", IN CALIFORNIA
Just under nine and a half million euro in turnover, a good 90 percent achieved thanks to exports. Two figures that speak volumes about the size and commercial dynamism of Irriland, an Emilian company specializing in the irrigation sector that can be taken as an example of that artisanal entrepreneurship oriented towards innovation and technology on which national economic development is very much based. All the hose reels made in Guastalla, in the province of Reggio Emilia, are in fact the result of an artisanal production system and, as such, characterized by a great build quality as well as a wide range of customization possibilities.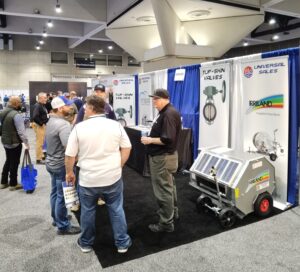 At the same time, they are also very oriented towards innovation, a reality expressed above all at the management level, increasingly entrusted to modulated electronics so as to be easy to control. This content is then flanked by the exclusive use of hot-dip galvanized steel for the production of metal parts and the use of patented solutions to minimize energy absorption in favor of cost containment and indirect protection of the environment.
The production system is also modern and innovative, entrusted in terms of carpentry to external producers, so as to guarantee the Made in Italy of the entire production while also being able to respond in real time to market variables. In the plural because, as mentioned, Irriland does not operate by looking only at Italy but, above all, beyond the border.
Western Europe is in fact one of the primary catchment areas, but it is also flanked by the other European commercial areas and those made up of the countries of North and South America, the Australia-New Zealand binomial , in Asia, India and Indonesia up to the African territory. In practice, it happens that wherever there is a need for an irrigation system, there is also Irriland, a statement that the company also confirmed last December by attending "EIMA" in Bologna (October) and "Irrigation Show", in San Diego, California. (In the picture UNIVERSAL SALES booth)
In both cases, the most recent systems designed  and patented by the Emilian brand were the protagonists. In Bologna, Irriland launched a new ecological priming system for any type of pump, EVA and at the IA the E-SPORT series with grooved PE hose, that won the NEW PRODUCT CONTEST in the previous edition.