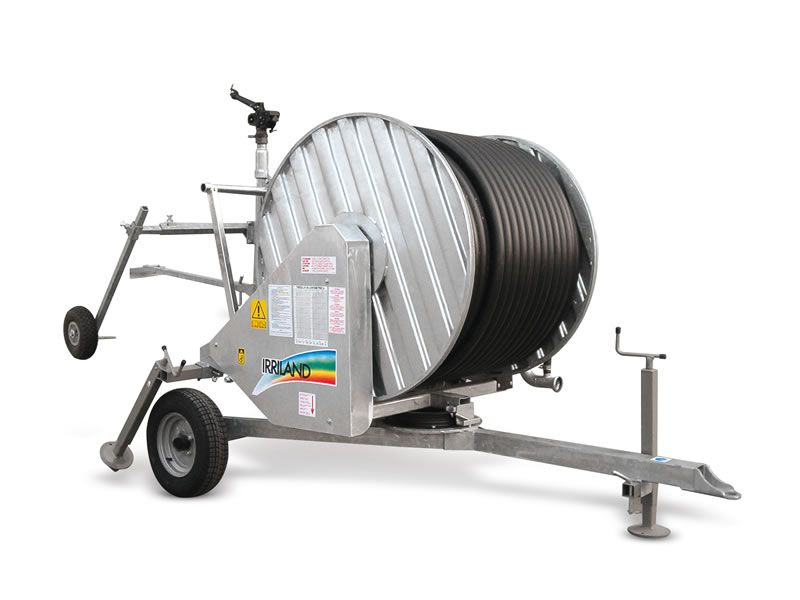 Mod. 11-14
For pipes diameter 40/50/63/70/75 with lengths from 100 to 300 meters.
Very versatile automatic hard hose reel in a small size. The ideal partner for anyone wanting to use the great benefits of this irrigation system on small plots.
It is so practical and handy as to allow specific use on sports fields and in the professional hobby sector.
Standard Equipment:
– Hot galvanizing frame & drum;
– Turnable frame;
– Driven by parcialized water turbine;
– Cast iron turbine flanged on gear-box;
– Oil filled gear box with pto;
– Automatic brake;
– Controller for speed electronic agjustment;
– Manometer;
– Sprinkler with nozzles' series;
– Sprinkler cart with adjustable track;
– 4 m flexible hose with couplings;
– Safety hand wheel for pto shaft;
– Automatic stop at the rewinding end;
– Automatic cart lifting;
– Hoseguide system with no end screw;
– Drawbar eye;
– Rear anchoring legs with handle;
– Chassis with adjustable track;
– CE mark and certification.